Hi guys! On this week's episode, we fell in love with Jane and Michael again, lost a loved one unexpectedly, and then the episode ends with a three-year time jump that adds another twist to the story.
Jane and Michael are a perfect, happy, and healthy couple with everything going pretty well. But towards the last few minutes of the episode, Michael Cordero's fate is revealed as he dies. I cannot get over this, you guys! Michael died on a classroom floor, loving Jane until his final breath, from complications related to his gunshot wounds after completing his LSAT… remember when it seemed like we were going to lose Michael on their wedding night? The pain is much worse this time because it's not a scare and he is really gone.
The writers were kind enough to not just kill Michael off but take us through the evolution of his relationship with Jane. Also, a flashback to a young Michael established that he was going to be at the center of that major change. At first, I thought the moment might be a new baby for the Villanueva-Cordero family, and Michael was thrilled at the prospect of having a child with Jane but it turned out to be a false alarm even though Jane's late period encouraged them to switch up their set timeline and allow more flexibility.
Okay enough sadness (for now), other stuff happened on this episode beyond Michael's death and the time jump. Jane gets a new job opportunity as the assistant for a child prodigy publisher, a job she lands thanks to Michael's assistance in helping her uncover fraud in a nonfiction novel. Will she keep the job after his death and will she publish her first novel in those three years?
Rogelio had an outburst after his full frontal moment is cut from A Sidewalk In Astoria (which also stars Lupita Nyong'o). This also has a negative effect on his relationship with Darci, but he settles things by agreeing to launch a reality TV series with her; The De La Vega Factor Factor ("This matchmaker's finally met her match!"). Will they have a successful reality show? Will they get married? (I certainly hope the wedding Jane was getting ready for in the time-jump is theirs).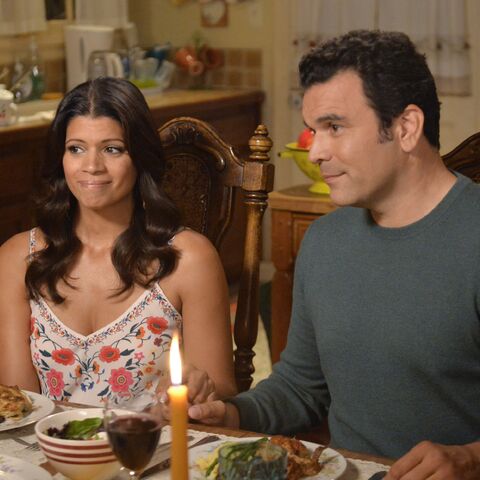 Or maybe the wedding is for Bruce and Xo. Their story gets some forward movement when a drunk Tess shows up at Jane's house then flees and had the Villanueva women track her down. Xo gets in Tess' good graces when she convinces Bruce to be reasonable with how he punishes his daughter which leads to the conversation about Xo moving in with Bruce down the line. Will Xo and Bruce be living together next episode and get married in the future? Or will the relationship dissolve just has it has in the past?
And finally the craziness at The Marbella. Rafael is willing to go to prison in order to set a good example for his children rather than continue lying (because he lied to cover up his father's involvement with stolen art). Petra tries to dissuade him at first because she believes she is an unfit mother, but after a good night with Elsa, Anna, and Mateo, she encourages Rafael to do what is best. Will Rafael have served prison time when we see him next or will he be in prison?
Oh and then Luisa brought Rose (now named Eileen) back into their lives. This time with an elaborate plot that involves a woman being bribed with $10 million so that she'll pass the very necessary medical tests Rafael wants to administer to prove her identity.
Below is the trailer for the next episode; Chapter Fifty-Five…