Hey guys! It is just the third month of the year and you would not believe the awesome movies coming to you from different genres. I'm super excited because it is my birthday month and a few movies will be released on my birthday…yay me! Here's a list of what to look out for.
Wolverine is back! It's 2029, all the mutants are gone well almost all. An isolated, disheartened Logan is drinking his days away in a hideout on a remote stretch of the Mexican border, picking up petty cash as a driver for hire. His companions in exile are the outcast Caliban and an ailing Professor X, whose singular mind is plagued by worsening seizures. But Logan's attempts to hide from the world and his legacy abruptly end when a mysterious woman appears with an urgent request that Logan guides an extraordinary young girl to safety. Soon, the claws come out as Logan must face off against dark forces and a villain from his own past on a live-or-die mission, one that will set the time-worn warrior on a path toward fulfilling his destiny. Logan which is the epic conclusion of the Wolverine series is set to be released 3rd March.
Go Go Power Rangers! This reboot of the franchise is the third film based on the Power Rangers. So five teens with attitude are strangely brought together by coincidence (or destiny) to become the newest generation in a line of warriors known as the Power Rangers. They soon learn that their small town of Angel Grove and the world is on the verge of being obliterated by an alien threat and they are the only ones who can save the planet. But to do so, they will have to overcome their real-life issues and before it's too late. Power Rangers will be released 23rd March.

Beauty and The Beast would be available from the 17th March.
Personal Shopper is a french psychological thriller written and directed by Olivier Assayas and stars Kristen Stewart who is grieving the recent death of her twin brother and then she haunts his Paris home trying to make contact with him. It basically revolves around a ghost story that takes place in the fashion underworld of Paris. Personal Shopper is set to be released 10 March.
Before I Fall is a 2017 American drama film directed by Ry Russo-Young and written by Maria Maggenti which is based on the 2010 novel of same name by Lauren Oliver. It is about Samantha Kingston who has everything; the perfect friends, the perfect guy, and a seemingly perfect future. Then everything changes after one fateful night and she wakes up with no future at all as she is trapped reliving the same day over and over. She begins to question just how perfect her life really was and discovered how the power of a single day can make a difference, not just in her own life, but in the lives of those around her. Before I fall would be out by the 3rd of March.
The Fantasy/Science fiction film from Warner Bros. Pictures and Legendary Pictures re-imagines the origin of the mythic Kong as a diverse team of explorers are brought together to venture deep into an uncharted island in the Pacific unaware that they're crossing into the domain of the mighty king Kong. Kong: Skull Island stars Tom Hiddleston , Samuel L. Jackson, Brie Larson, John Goodman and John C. Reilly. We shall witness the rise of the king as the movie is set to be released 10th March.
This is the real-life story of one working wife and mother who became a hero to hundreds during World War II. In 1939 Poland, Antonina Żabińska (played by Jessica Chastain) and her husband, Dr. Jan Żabiński (played by Johan Heldenbergh), have the Warsaw Zoo flourishing under his stewardship and her care. When their country was invaded by the Germans, Jan and Antonina are stunned – and forced to report to the Reich's newly appointed chief zoologist, Lutz Heck (played by Daniel Brühl). To fight back on their own terms, they covertly begin working with the Resistance and put into action plans to save lives out of what has become the Warsaw Ghetto, with Antonina putting herself and even her children at great risk. The Zookeeper's Wife is set to be released 31st March.
In a twisted social experiment, a group of 80 Americans are locked in their high-rise corporate office in Bogota, Colombia and ordered by an unknown voice coming from the company's intercom system to participate in a deadly game of kill or be killed. The Belko Experiment is a 2016 American horror thriller film directed by Greg McLean and written by James Gunn. The film stars John Gallagher Jr., Tony Goldwyn, Adria Arjona, and Melonie Diaz and would be available from the 17th March.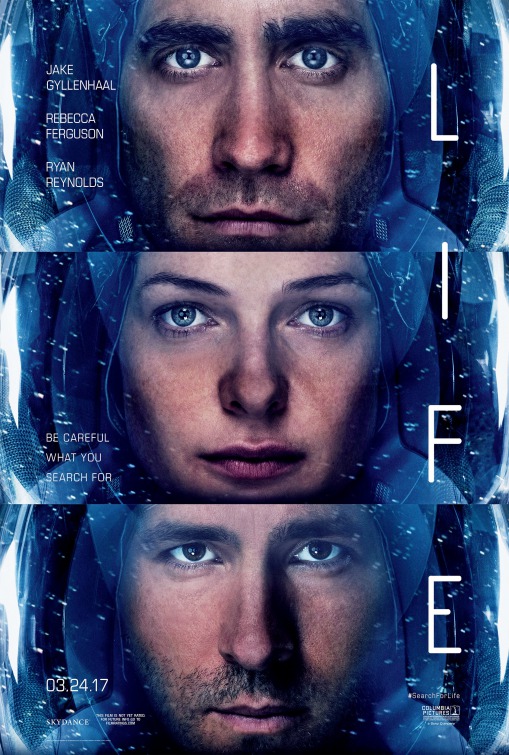 Life is a fantasy/science fiction that tells the story of six-member crew of the International Space Station that is on the cutting edge of one of the most important discoveries in human history: the first evidence of extraterrestrial life on Mars. As the crew begins to conduct research, their methods end up having unintended consequences and the life form proves more intelligent than anyone ever expected. The film stars Jake Gyllenhaal, Rebecca Ferguson, Ryan Reynolds, Hiroyuki Sanada, Ariyon Bakare and Olga Dihovichnaya and would be released on 24th March.
The Boss Baby is loosely based on the 2010 picture book of the same name written and illustrated by Marla Frazee. The 2017 movie is produced by DreamWorks Animation, directed by Tom McGrath and written by Michael McCullers. The Boss Baby is a hilariously universal story about how a new baby's arrival impacts a family, told from the point of view of a delightfully unreliable narrator, a wildly imaginative 7 year old named Tim. It stars the voices of Alec Baldwin, Miles Bakshi, Steve Buscemi, Jimmy Kimmel, and Lisa Kudrow with Tobey Maguire as the narrator. The Boss Baby is scheduled to be released on 31st March.
Let me know what other movie you're excited about this month!