Hey guys! The world's most famous giant monster ape is back in Kong: Skull Island. The movie which is not connected with any of the previous Kong movies opens during World War II as two pilots ,an American and a Japanese, crash land on a remote island and continue their fight on the ground until a bigger threat arrives to put things in perspective.
The film then skips to 1973, the Vietnam War is coming to a close, and a man named William Randa (John Goodman) sees this as a perfect time to get the government to fund his expedition to a mysterious island where he thinks his theories about certain forms of life on the planet can be proven. A now out-of-work military helicopter squadron is recruited for the mission, led by Colonel Packard (Samuel L. Jackson). A team of scientists, a wartime photojournalist Mason Weaver (Brie Larson) and a former soldier turned tracker-for-hire James Conrad (Tom Hiddleston) also join the expedition. After flying dangerously through a wall of electrical storms to get to the island, they encounter the title character, who stands hundreds of feet tall and, in an bizarre and massively thrilling action sequence, swats the attacking helicopters out of the air like flies.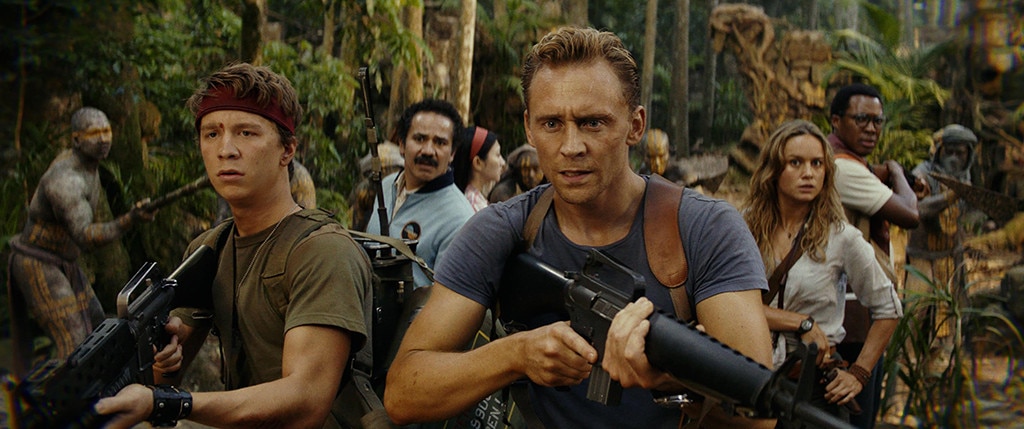 The survivors find themselves on the ground and in disarray. They hence must make their way across the island to reach a pre-scheduled rendezvous point for pick-up while discovering that Kong isn't the only danger they face.
Samuel Jackson took the kind of role he has played so many times before and still found a way to make it entertaining. Supporting players like Shea Whigham (as Earl Cole), Jason Mitchell (as Glenn Mills), Corey Hawkins (as Houston Brooks) and San Lin (as Jing Tian) also did a great job with their roles.
This Kong wanders around in his domain like a lonely king and we saw it wrestle a giant octopus-like creature out of the island's lakes before eating it. We also learn about his lineage and that he protects the island's primitive human inhabitants from some truly horrific underground dwellers that Hank Marlow (John C. Reilly), the World War II airman who's been trapped on the island for 28 years (who steals the film instantly and never gives it back) called Skullcrawlers. There are also regular-sized pterodactyls, giant insects, a battleship-sized water buffalo, a mighty spider, an enormous octopus, and weird reptilian creatures.
Above all, the movie started out slow for me but had its fun moments. And yes, make sure you stay until the very end because there's some post-credits business to take care of! My major problem with 2014 Godzilla was that it didn't have enough monster action and the human characters barely registered onscreen. But Kong:Skull Island had none of that so, sorry Godzilla, but Kong has the edge for now.
My rating would be a decent 6.9/10.
Here's the trailer for Kong:Skull Island