Hi guys! This week on Empire, Cookie tried to move forward with Angelo while struggling with guilt over her run-in with Lucious, Leah asked for Tariq's help in taking down Anika, Jamal and Tory teamed up again in the studio.
The episode opened right after last week's violent quarrel. Cookie took a shower and urgently scrubbed blood off her skin while a cleaning crew cleared up the mess at the Empire headquarters before anyone noticed what happened. Cookie then confided in her sister, Candace (played by Vivica A Fox), about her undying love for Lucious but Candace told Cookie that just because Lucious was her first did not mean he would be her last.
Lucious did everything he could to cover up the fact that Cookie smashed everything and made major mess at the office. He also assigned a new security guard to his mum who decided to ask if the new security guard was a man or a woman (completely hilarious and quite a reasonable question).
Boo Boo Kitty (Anika) arrived at her first full day of work in an all-white power suit with an actual cape. She went to visit the music-video set and told Becky (who was full of attitude at first) that even though she snatched the job from under her nose, she wanted Becky to succeed. Becky softened up and gave Anika a rundown of the day's events and then hugged her.
Hakeem was in charge of directing Tiana's newest video and he auditioned dancers. He also wanted Tiana to be a part of Bella's life, but she is hesitant with good reason by the way because no one likes baby-mama drama. Grandma Walker came in and asked a hot dancer to bend over in front of her new security guard so she could distract the guard while grandma snuck away.
Jamal and Tori were officially working on music together. He decorated the studio with portraits of old jazz singers and Tori put up reminders of death. She wanted to bring some rock-'n'-roll edge to Jamal's jazzy, funky new song, he wasn't feeling it at first, but they found a way to make it work. Cookie warned Jamal to clear the recording sessions every night before leaving the studio but of course he did not listen. Lucious listened to the song and even used Tori's chords for one of his tracks off the Inferno album, which honestly sounded way better on his song than on Jamal's.
Tariq met with Anika and reminded her that there was nothing stopping her from testifying if she knew something about Cookie. He served her with a subpoena that forced her to testify about Frank Gathers and Lucious or Cookie's involvement. He offered to protect Anika and immediately put her in witness protection.
Andre had told Shine (played by Xzibit) to introduce him to some of his partners but Shine was worried and had a talk with Andre about "the pills he takes" which Andre assured that he was fine. So basically, Andre plans to use Shine's contacts to arrange for Empire artists to perform at (strip)clubs in Las Vegas. Once a huge deal like that was secured, Lucious can be killed. I am bothered about how often Andre speaks loudly about killing his father in public and wonder if Lucious would get to hear of this plan anytime soon.
Cookie had to sneak out of the Empire office after "someone" tipped off her parole officer that she associates with felons. Angelo who was tired of Lucious messing with Cookie, picked her up and drove over to Lucious' house. Angelo then told Lucious that he was born with power and if he tried to mess with Cookie again, he would cause pain Lucious had never experienced before. Uhmm dear Angelo, you do know he is gangster yeah?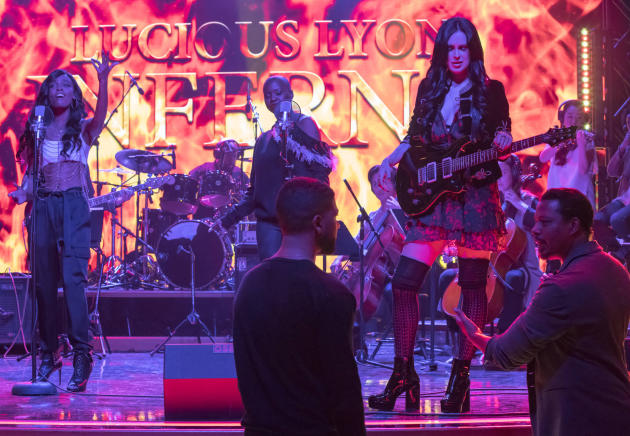 Jamal went to see Lucious after telling D. Major he was not going to work with him anymore, but he saw Tori Ash using The Devil's Chord (the rock-'n'-roll edge Jamal wasn't feeling earlier) on Lucious' new song. Later on, Jamal's sponsor from the PTSD support group came to see him which started out with Jamal ranting and raving and ended with them making out.
Andre finally met with Shine's contact to meet the club owner from Vegas, who came with his wife Giuliana (special guest star Nia Long). The club owner abused his wife most of the scene and she ended up shooting him, then she decided that she would still go through with the deal with Andre and Shine.
Below is the trailer for the next episode; Strange Bedfellows