Hey guys! Right from the first season, I wondered when Jimmy McGill would transition to become the Saul Goodman we knew and loved from Breaking Bad and now I wonder if this week's episode is the beginning of that shift. This week on Better Call Saul Jimmy and Kim hired an assistant, Mike sought out a mysterious acquaintance, Chuck used the law to gain an advantage over Jimmy and Breaking Bad's Hall of Fame villain Gus Fring made his long-awaited Better Call Saul debut.
The action began again at Chuck's house, where he was now keeping company behind locked doors with a solitaire-playing private investigator. Chuck's intentions were unknown but clearly sketchy, even for Chuck.
Mike continued following the men who were stalking him back to a power plant parking lot, where the tracker from his gas cap was handed off to a man in a green Chevy. A long night of driving ensued as the man in the green Chevy visited a series of money-drops and then disappeared into a building where he left the tracker and all his collected cash behind. Mike looked confused, gave up on spying (more like took a break) and pulled away. As the camera panned out, it was revealed that he had been outside Los Pollos Hermanos.
Jimmy and Kim interviewed an assistant (Francesca) who Jimmy liked right away and even hired. Kim was not comfortable with the decision to hire her as she was the first applicant they spoke to and had no experience but Jimmy convinced her to give the assistant a trial period to prove herself.
Mike called on Jimmy for a favor, explaining with the job at hand; to park at Los Pollos Hermanos at about 7:30 a.m, watch for a green Chevy to arrive then keep his eyes on the driver and his mysterious knapsack. Jimmy did as he was told but the driver did not do anything while he was in there or interact with anyone till he left. So Jimmy reached into the trash to see if the guy stashed anything in there and we finally met Gus in manager mod, who offered Jimmy a polite smile when Jimmy said he lost his watch in the trash which Gus happily put on a pair of rubber gloves to help him retrieve it.
At the end of Jimmy's mission, he whined to Mike about wanting in on the stakeout as he had cleared his morning but Mike refused and told him to leave. Jimmy came back to remind Mike that he had his back and eventually left. As he drove away, we saw Gus sweeping up in the parking lot and he was not smiling anymore.
Ernesto couldn't keep his knowledge of Jimmy's confession to himself so he went down to Jimmy and Kim's office, called Kim out and told her everything. She marched back into the firm and instructed Jimmy to give her a dollar which made her his lawyer so they had confidentiality when she told him she knew about his confession. Jimmy insisted that he couldn't leave Chuck in crazy town and that it was his word against Chuck's but Kim told him about the recording Ernie found and Jimmy was stunned. For once, Jimmy McGill was speechless! Kim tried to reassure him that he would be fine and went on to work on legal strategies to get the tape excluded but Jimmy was clearly affected by his brother's betrayal.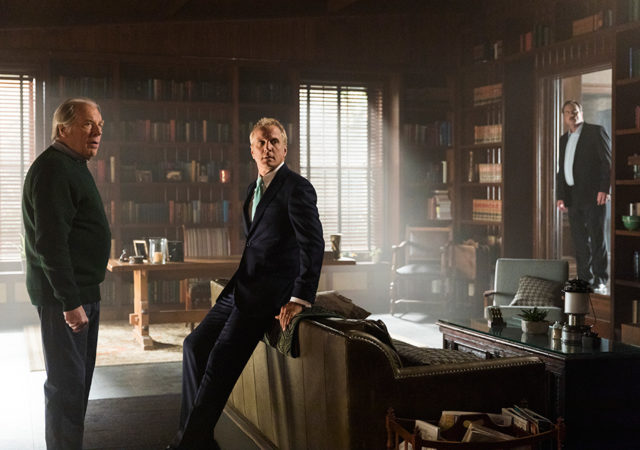 Howard got to Chuck's after parking his car blocks away and climbing a couple of fences. While inside, he asked Chuck if he was sure about the plan with which Chuck assured that he knew his brother well. He had he confidently thought that Jimmy would try to break into his house in an attempt to steal the tapes at night and then catch him in the act with the private investigator as his witness.
Mike returned to the Los Pollos location later where he noticed a black SUV screeched up to the parking lot then backed in behind the building and then screeched out again soon after. The driver rolled down his window and it was Victor (the henchman whose throat Gus slit with a box cutter in Breaking Bad's Season 4 premiere). Mike's tracker had the gas cap on the move so he drove off in pursuit. He ended up on an empty desert road with no car in sight and then found the gas cap placed in the middle of the road with a ringing cell phone on top of it with which Mike answered the phone harshly. Could it be Gus on the other end of that line?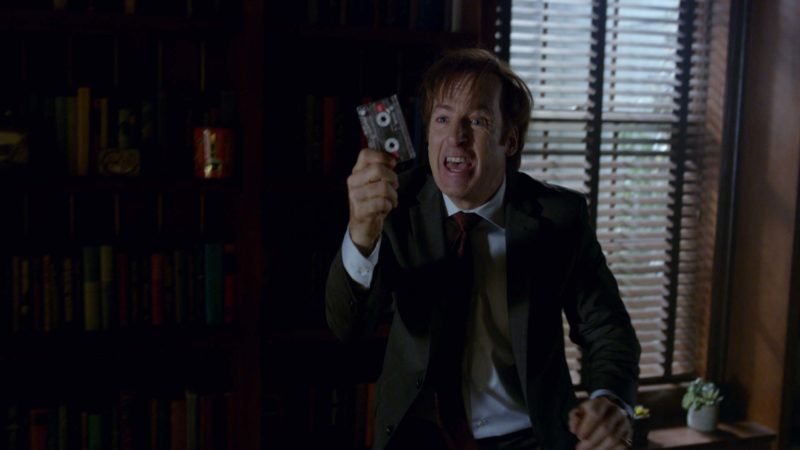 Instead of what Chuck was sure his brother's reaction would be, Jimmy stormed to Chuck's house, kicked down the door and screamed at him while he rampaged through the house till he found the tape recorder then he ripped the tape to shreds in Chuck's face, threatening to burn the whole goddamn house to the ground in search of copies and that's when he realized they were not alone. Howard and the detective were both witnesses to what had just happened!
Like I said, this episode must be the start of something epic to come. Here's the trailer for the next episode; Sunk Costs…