Hi guys! Scandal continued this week with quite a number of OMGs as Olivia and the team worked to bring down Ruland and Peus, Cyrus was exonerated and it was up to the electoral college to decide who would be the next candidate to occupy the Oval office. This fight for power resulted in another death on the show and in the end, rekindled love.
Olivia Pope was ready to wear the White Hat again and put the right candidate (Cyrus Beene) in the White House. Mellie was not ready to let go of her dream to become the President of the united states and even reminded Olivia that she had killed people before but Olivia sort of convinced her that she was a good person and would have made a good president but the right thing to do was to concede to Cyrus.
David Rosen had sex with his new girlfriend, Marjorie and they even broke the bed. Right after, he went to the kitchen to get her water but Jake snagged him and told him he had to leave or she was going to kill him too. Not something you would wanna hear about your beloved right after doing the needful.
Olivia went to the Oval to tell Fitz what she was not interested in stealing the Oval twice and he told her she deserved the win but she left anyway.
Cyrus Beene was out of jail but could not go home just yet because of reporters hanging around his house. Abby got him to a hotel and he asked see his daughter, but Michael would not allow it.
Elizabeth North showed up at Mellie's office and gave a speech about her expecting more from Mellie and that she even voted for her. She did not want Mellie to give up on the White House just yet and was ready to work with her to help her win.
So Mellie went to Olivia's, while the team took care of Huck, to tell her that they should let the electoral college decide instead of giving up as they had earlier agreed.
Olivia went to see her one time "friend-then-adversary-then-friend-again-then-adversary-again" (Just in case my description seems a little bit confusing, I'm talking about Cyrus) and make him the president against the candidate she once worked with (Mellie). Cyrus wasn't interested in her proposition, even when Olivia mentioned the wavering electorates, he proved that he held a grudge against her for maltreating him when she thought he killed Frankie and asked her to leave.
Back at the White House, during FBI Director Angela's sleepover with Fitz, she questioned him about Olivia and the fact that she was helping Cyrus when she tried to bury him a couple weeks before but Fitz refused to talk about it.
Olivia had Frankie Vargas' widow do an interview to endorse Cyrus. Right before the interview, Rowan called Olivia to his office, where he was building a dinosaur skeleton. He had mapped out the entire office and found where the surveillance cameras could not reach so he could tell her to stop her mission to put Cyrus in the White House before she ended up dead but as always, she did not listen.
Frankie's widow went forward with the interview and Cyrus' ratings went up almost immediately. His husband, Michael, showed up on television to claim that Cyrus didn't kill Frankie but he was an awful man. Olivia called Mellie to lambaste her but Mellie said she had nothing to do with it and neither did Elizabeth North as she had also called to ask if Mellie was behind Michael's interview. Olivia then thought it was Rowan since she ignored his demands to stop her campaign against Mellie.
Olivia pressurized Fitz to visit Cyrus at his hotel room. They shared some drinks and Fitz casually asked how prison was for Cyrus who then replied with the stories of being jumped and left for dead in prison. Fitz apologized and said he was going to give Cy America just as he had given him on the night of the assassination.
This got Cyrus to shave and give a press conference on the steps of the Lincoln Memorial only to say that he was not worthy of the presidency and how much Frankie Vargas was worthy of the presidency but through Vargas' spirit, he might be able to be the president America needs. This left Rowan in shambles because Olivia was good as dead, and so was he.
Theodore Peus, Marjorie Ruland, and Elizabeth North went to see Mellie to tell her she was going to be the next president as they had persuaded the electors and also that they needed her to get to the White House but would be the ones running it. Mellie told them that she was not afraid of them and she would make sure that they were hanged for the murder of Frankie. Majorie beat Elizabeth to death with a fireplace poker in Mellie's office in order to properly convey to Mellie that they were not messing around. Then they told Mellie that Marjorie would be her chief of staff and would kill her children if she did not comply. After they left, she called Olivia and Jake for help and Jake promised to protect Mellie while Olivia tried to figure out what to do next..
FBI Director Angela decided to follow her gut and have Olivia arrested after finding the money trail set up to make it appear like she paid Tom Larsen for Vargas' murder. She said she told Fitz as a "courtesy" but he told her to let it go and of course, she didn't.
Olivia went to Fitz for help but he was more concerned that Olivia was about to go to jail. He wanted to have Rowan arrested instead of Olivia, but she wasn't having it. She was ready to go to jail as a paper trail from her to Vargas' killer would ruin Mellie's chances of being the president which would help them win against Peus and Ruland. Fitz did not agree because he did not want to lose her but Olivia told him he would also lose her if he put her father in jail as she would pick her father over him. It was not a win-win situation for Fitz.
Just before the electorate vote, Fitz sent FBI director Angela on an assignment to another state so Rowan was arrested for the murder of Vargas and Olivia was obviously in danger. She came back to accuse him of interfering in matter of national security but he said he wasn't and asked if she would rather submit her resignation letter. Mellie was drinking her father's hooch as she watched the electoral college vote. The votes were in her favour and it appeared that she and her new friends would be going to the White House.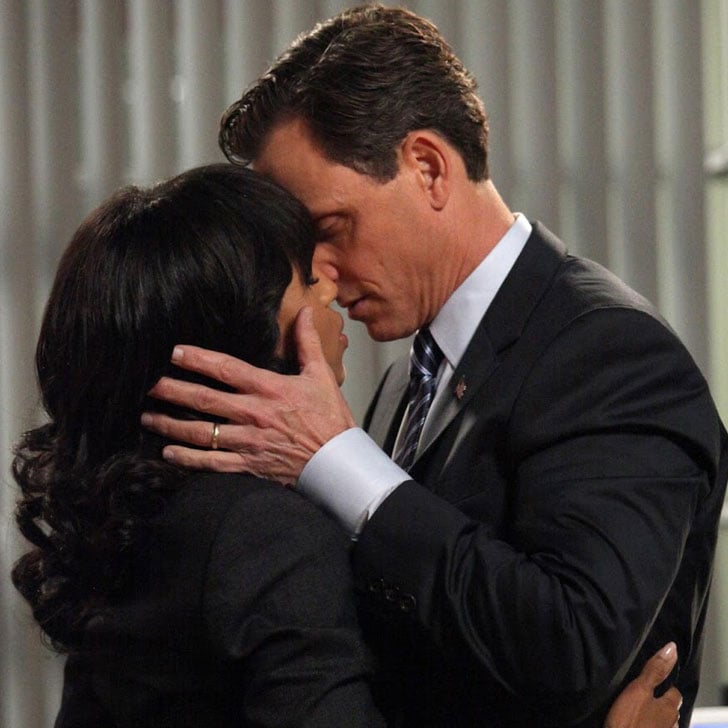 Olivia went to her father's office to try to stop his arrest and even tried to use her relationship with the president to have him released but was shut down when an agent told her their orders were directly from the president. She went over to the White House and screamed at a calm Fitz who showed her Rowan sitting comfortably in the Oval Office on his orders. Now everyone was on the same side (for the first time) and they can fight to take down Peus and Ruland together. Olivia calmed down, sat by Fitz who she kissed after staring at each other for some seconds and well, ended up in the presidential bedroom! Fitz and Liv might get back together people!
Here's the trailer for the next episode; Mercy