Hey guys! This week on Better Call Saul, Jimmy foolishly represented himself in court and Mike finally met Gus. The slow and careful unfolding of the stories on the show is quite pleasant even though it can also be frustrating sometimes.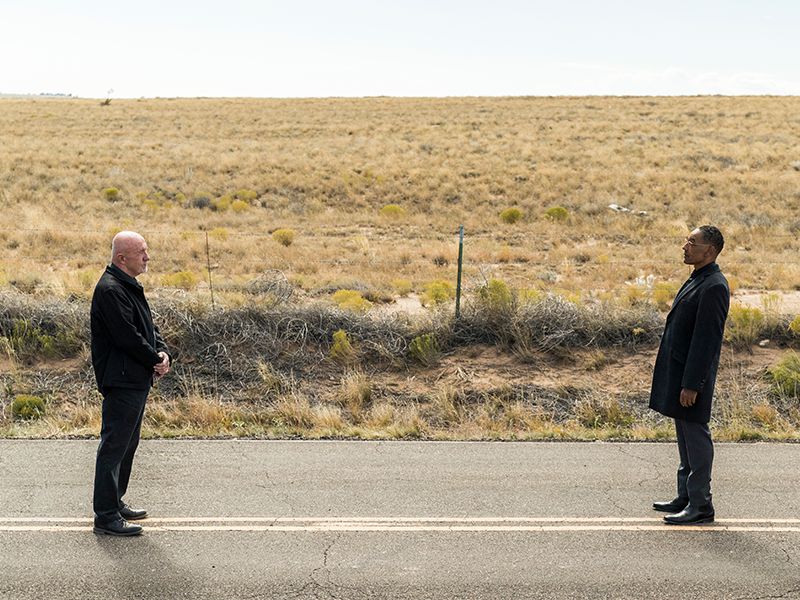 Remember we left off last week with Mike Ehrmantraut receiving a call from an unknown caller after tracking his gas cap to a lonely highway outside Albuquerque. The voice told him to expect two cars and the man whose acquaintanceship will shape the rest of Mike's life (Gus Fring) stepped out of an SUV. Mike held up the note from his windshield on the first episode of the season that read "DON'T" and asked that Gus elaborated on it. Gus also had his own questions like why Mike wanted Hector Salamanca dead. In the end, they both deduced the other's motives without even admitting theirs.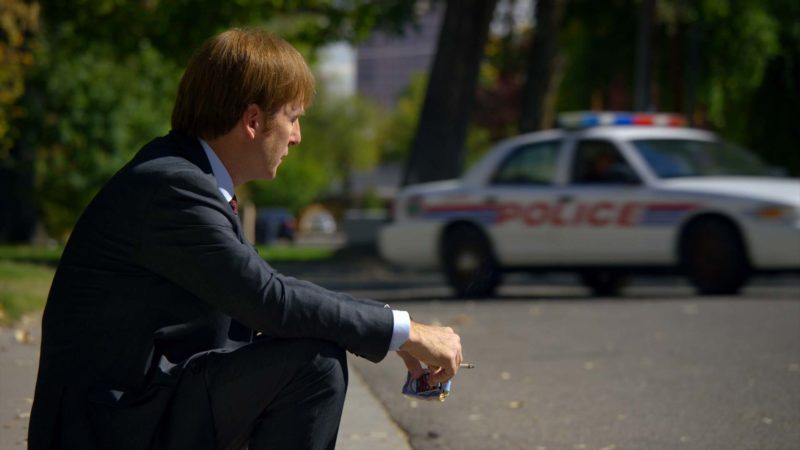 Jimmy sat on the curb outside Chuck's house and smoked a cigarette while waiting for the police to arrive and arrest him. Chuck tried to convince Jimmy that he set him up not as a punishment but to show that he could change before it was too late. Jimmy's response was totally savage and quite sad. He said one day Chuck would get "sick" again, one of his employees was going to find him curled up under a space blanket and take him to the hospital where they would hook him up to those machines that beep and hurt. And this time, it would be too much and he would die there… alone. A police car pulled up and Jimmy said, "Here's my ride".
While Jimmy was being booked, he tried to get his old "frenemy" Oakley from the DA's office to take his case.
Kim came out from the gym to find Ernie waiting for her again. He told her about getting fired and Jimmy's situation. She made it to the courthouse just in time for Jimmy's initial hearing but he insisted on representing himself.
Later on, back at their shared office, he explained that he wanted to clean up his mess by himself, without dragging her into it. Kim's response to his minute-long speech was a simple "Okay". I get it Kim, he frustrates me too sometimes.
Jimmy told Francesca to drive him to retrieve his car from outside Chuck's house and assured her as she got up to leave with him that the situation on ground was not the typical week around there.
Mike went to a Mexican doctor's office in request for a package he needed, something "yea big" that he weirdly couldn't just measure in grams.
Jimmy learnt from Oakley, to his dismay, that an outside DA will be prosecuting his case since all his former Albuquerque colleagues had to recuse themselves.
Mike returned to the lonely road with brand new sneakers which he tied together and tried (and failed severally until he finally got it) to sling the shoes over the wire.
The DA met with Chuck and told him she would not be nice to Jimmy because he was a fellow lawyer. She also asked if Chuck was sure he could make it to court as a witness, considering his condition to which he said he would (so much for wanting to bring poor Jimmy down). He also advised the DA on the sentence she should offer the court for the case.
Mike watched the road with a gun in hand as the Salamanca ice cream drug truck arrived and the drivers stopped to drop their guns. Mike fired into the air several times but not at them. They were initially scared but quickly assumed it was just distant shots by hunters and got about with their business. As Hector's guys drove off, Mike took another shot but this time at the sneakers he had put in place earlier and it leaked something powdery all over the rear fender. At the U.S border, Hector's guys got arrested when the drug dogs sniffed the powder all over their truck.
Kim joined Jimmy for a late-night smoke outside and he told her he received a plea offer but it was not what was expected. He received an offer of pre-prosecution diversion, which would be a gift under most circumstances as he would avoid jail, his record will stay clean, and all he has to do is admit, in writing, to having committed all the offenses he was charged with including the felony, which would certainly get him disbarred. So now we know what Chuck's plan was all along…poor Jimmy.
Here is the trailer for the next episode; Sabrosito