Hi guys! We spent last week's episode mostly in the courtroom as the McGill brothers as Jimmy proved his brother's illness was all in his head. This week on Better Call Saul, we saw the beginning of Jimmy's transformation into Saul Goodman, got to know more about Nacho and Hector and also had Easter eggs from Breaking Bad.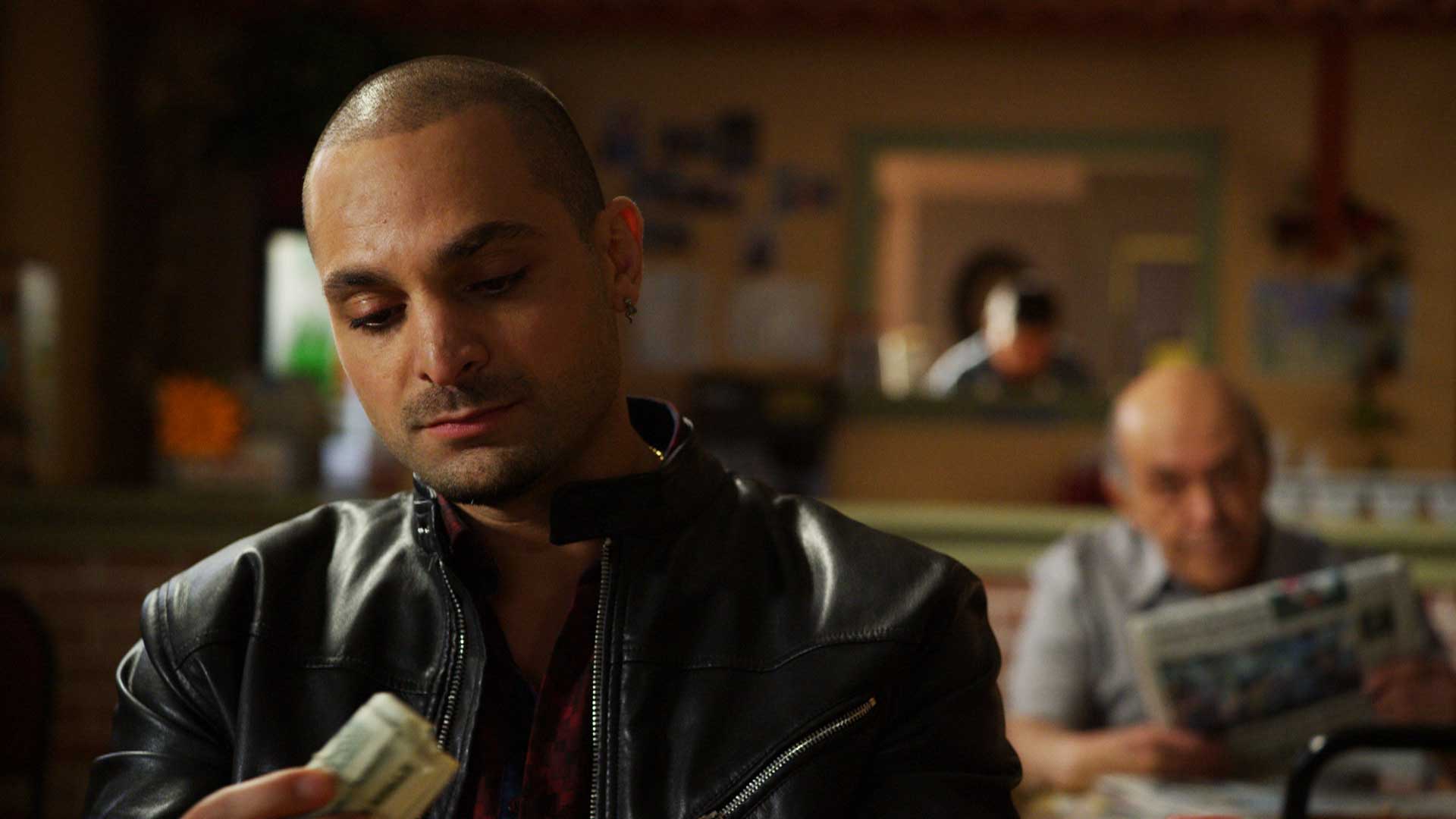 The episode opened with Nacho at a meeting with Don Hector sipping coffee at a table behind him. Men came in, dropped bags of cash on the table and left after cringing in Hector's direction. One man was short on his payment and Nacho initially agreed to let him cover the difference next week but Hector asked who worked for who from the background, causing Nacho to chase and drags the man back for some beating. Later on, Nacho could not focus at his father's shop as he stitched his own hand to a leather material blandly as he pulled the needle out.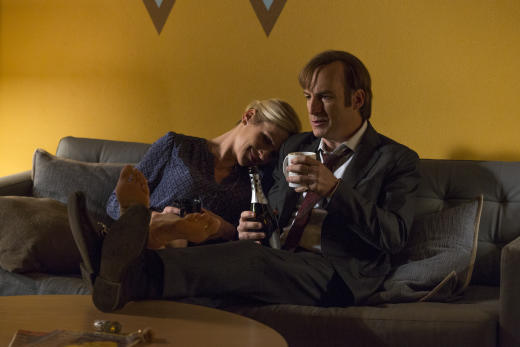 Jimmy and Kim popped a bottle of champagne and celebrated the verdict of Jimmy's suspension and not disbarment. Rebecca cut their celebration short and asked Jimmy to go with her and care for Chuck. She reminded him that Chuck was still his brother but Jimmy replied that he was not anymore.
Chuck was sad for about a day after the verdict but Howard showed up with a bottle of scotch to celebrate the sentence. The two men raised their glasses and toasted to new beginnings. After Howard left, Chuck removed the batteries from the tape recorder and held one in his hand as a fake therapy that had him leave the house to a  phone booth where he made a call and asked for an appointment with Dr. Lara Cruz.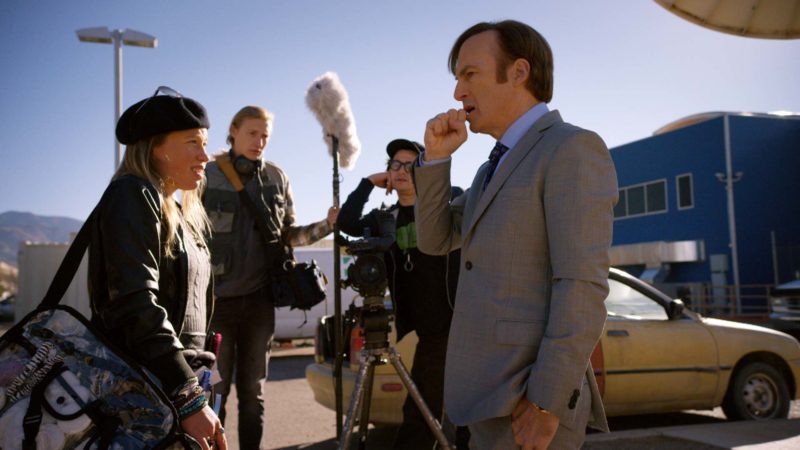 Back at Wexler & McGill, Jimmy called his clients to inform them about his impending leave of absence. He was then reminded by his last client of his "Gimme Jimmy" commercials which would be a violation of his suspension if they ran so he called the station to pull the ad and realized he had $4,000 worth of nonrefundable airtime that he couldn't sell and couldn't use to advertise himself as a lawyer so he figured out a loophole and reassembled the film-school crew who shot his ad to hustle around town to local businesses, offering to shoot an ad for them and even give them his airtime for free, only charging for producing the ad. He later went on to make a commercial for his commercials (make sense?) without compromising his existing public image as Jimmy McGill the lawyer.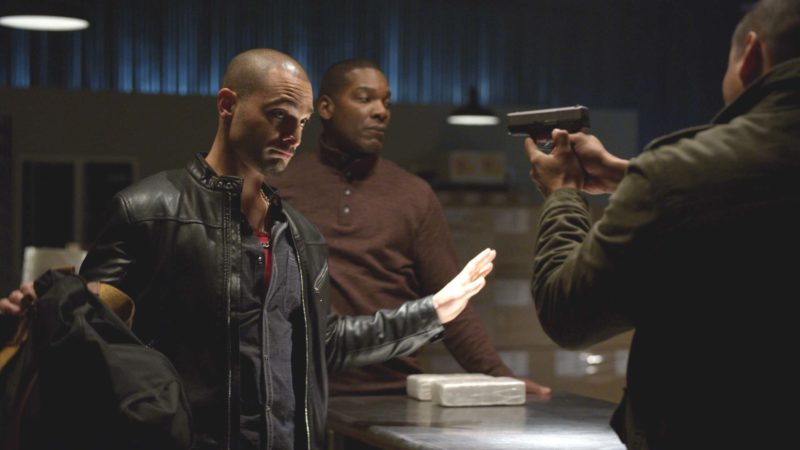 There was a meeting between Gus Fring's men and Nacho who barely escaped from what might have ended in a bloodbath when he went to pick up a drug shipment from Gus' men. He was supposed to take five drug bundles but he insisted that Don Hector was to get six so Victor put a gun in Nacho's face while another guy stepped aside to call Gus but Gus told his guys to let him have it so Nacho calmly walked out with the six bundles. Gus went to inspect an industrial laundry (where Walter White and Jesse Pinkman would create the world's finest methamphetamine in a hidden underground lab in Breaking Bad). He strolled through the building, came out and got into a car with a woman (Lydia from Breaking Bad) waiting.
Hector told Nacho he planned to use his father's business as a front for transporting drugs. The conversation was interrupted by a phone call from Tuco who was still in prison and had just attacked a guard so he might be there for a while. Hector didn't take the news so well as he clutched at his chest, fumbled for a bottle of pills and dropped one. Nacho quietly covered the fallen pill with his foot for future reference maybe as we know he doesn't want Hector involving his father in the business.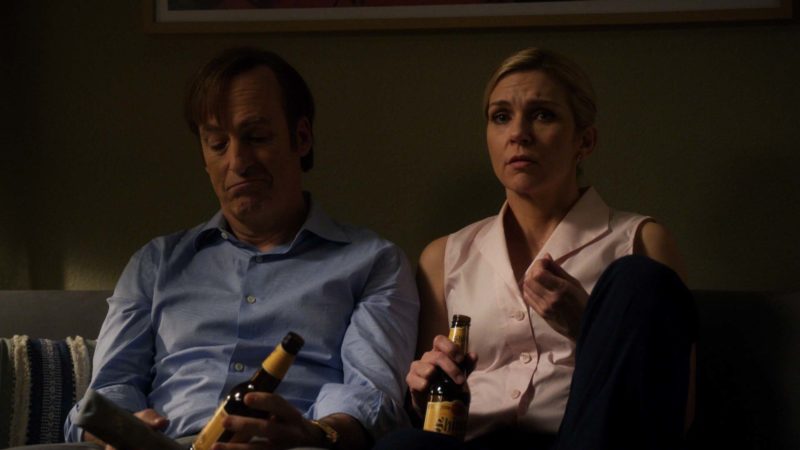 At Jimmy's, the phone was ringing like crazy as it turned out that the commercial he made for commercials was a stroke of genius and Kim asked to see it. Jimmy was reluctant or maybe embarrassed but played it for her all the same. He had to create a new identity; a producer with a goatee named Saul Goodman who was just waiting to make you, yes you, a star. Kim asked about the name and Jimmy replied that it meant "s'all good, man, you know, like Its All Good Man!
Below is the trailer for the next episode; Expenses