Hey guys! This season's finale had more drama than the entire season and that's saying a lot because the show is a dramatic telenovela. It was the big day but a shocking news was revealed and threatened to put Rogelio and Xo's ceremony on hold, Rafael was upset with Luisa and asked her to leave and Petra doubted about Jane's feelings for Rafael which led her to make a rash decision.
Jane the wedding planner pulled out all the stops to make the wedding perfect as she got the programs ready, the dress, the venue, a promise that Marc Anthony would be turned away at the door, an "all clear" forecast from the weather man promising the tropical storm will not hit Miami and a certificate that said she was ordained (Jane the ordained). Alba suggested that she asked her "work colleague" for help on how to write the perfect ceremony so Jane visited her priest; Father Gustavo who recommended that Jane brainstormed about her parents' love story for ten minutes which should help her get a theme and make the ceremony easy write. Jane remembered the last time he gave her a writing assignment., during a premarital counseling with Michael. She mentioned it and Father Gustavo told her reread the letter from Michael for inspiration as it was the most beautiful letter he has ever read.
Gale-force winds were about to hit Miami and Jane was about to lose it but luckily, she had Rafael to calm her down but then Petra came in and Jane rushed off to the wedding rehearsal to learn the choreography for the opening salsa number. She ran into Rogelio's ex Darcy at the parking lot where she revealed she was seven months pregnant with Rogelio's child and that she needed Jane to break the news to her father which she did gently. Then they both went home to break the news to Xo who was trying out her beautiful wedding dress. According to Rogelio, he and Darcy had hate sex which might have led to the conception of the child. Xo said she wanted to marry Rogelio the next day but they need to put everything on hold until they figure out what to do with Darcy and her baby.
Jane told Alba about the mysterious letter from Michael and Alba revealed that she knew exactly what Jane talking about (seems like everyone knows about this letter except Jane and us). She remembered that Michael mentioned he was supposed to hide it away for a rainy day and present it when Jane needed it most but had no idea where he put it. Mateo later mentioned his special hiding place for his secret stash of gummy worms which he wanted to give Xo and Ro to help them want to get married again so Jane remembered that there was a loose floorboard at their old place and she got on a bus to go and find out. She arrived at her former apartment and begged the new occupants to let her break into any loose floorboards they may have. They invited her into their home and she checked around for a few minutes till she found the board, reached in, and unfortunately, came up empty.
Luisa called Rafael to let him know she was getting out of jail because she knew where all the dead bodies of Rose's victims were buried and had immunity for snitching on Rose. She stopped by to see Rose before leaving and accused her of lying about Scott's death. Rose claimed she didn't kill Scott but the real Eileen did. She also told Luisa the person not to be trusted was Rafael and his fake cancer story. Luisa marched furiously into Rafael's office after she confirmed the cancer story was fake by calling old friends from the hospital (how can you forget Luisa used to be a Dr? Remember Jane's accidental insemination?). Rafael told Luisa that she was delusional and demanded that she stayed away from him and his family.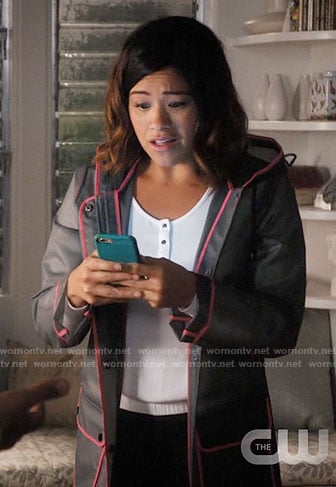 Darcy, Xo, and Rogelio met at the Marbella to discuss the baby situation. Darcy and Ro could not agree on a name for the baby (he wanted Rogelina) and she also said he would not have shared custody. Xo defended Rogelio's character as a man and a father and decided there and then that she wanted to marry him in the middle of a hurricane. Jane got back home and had Rafael meet her to gather up Xo's wedding dress, her dress, and all the other necessities for a makeshift wedding. A palm tree fell on Rafael's car so they were forced to take the bus where he noticed an advertisement featuring Jane's book and inspiration hit Jane which prompted her to write her parents' wedding ceremony. They got off the bus and into the rain where Rafael tripped and fell into the mud, ruining Xo's dress.
Alba got things from the gift shop and made Xo a crown of seashells which she wore with a flowery top and a white tulle bottom then she gave a speech that made all three Villanueva women cry (I think that's the most she has ever spoken in any episode…and in English!). Candles were used to light up the place when the electricity went out and Rogelio could not apply foundation without his makeup mirror. Alba walked Xo down the aisle and Jane delivered a beautiful speech about how her parents were not meant to be but they chose each other and have earned their happy ending. Petra watched Rafael watch Jane throughout the ceremony so after, she escaped to the kitchen where Chuck came in to meet her and told her he thought they were just like Xo and Rogelio as they always broke up but kept coming back for each other. Petra kissed Chuck just as Rafael walked in and ran after him to apologize. She blamed her insecurity about Jane but Rafael wasn't buying it. She said she was certain Rafael would change go to Jane if he knew Jane still had feelings for him which Rafael disagreed and they broke up.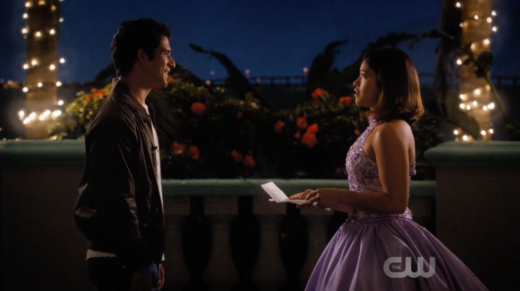 Rafael walked away from Petra and right into the arms of Jane and Mateo for a "family dance". Jane felt something was wrong so she asked and he said he just broke up with Petra because Petra thought he and Jane had feelings for each other which Jane denied. of course. Later, Xo encouraged her to talk to Rafael about how she felt and at the exact time, Darcy encouraged Petra to talk to Rafael. As Petra searched for Rafael, she received a text from him that asked her to meet him where they first fell in love. Jane who also searched for Rafael ran into staff at the Marbella who gave Jane a letter addressed to her. Turned out the tenants she met earlier called the guy who lived in the house before them who apparently had the letter and delivered it personally to the Marbella.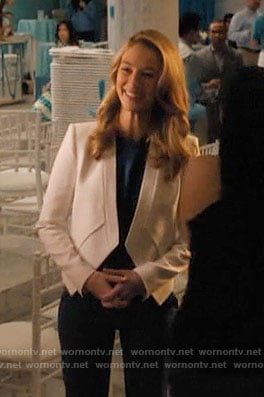 Petra went outside to the beach to meet Rafael but she ran into Anezka holding a gun instead. Anezka and Luisa had shared a cab from the hotel to the airport where they both exchanged secrets they knew could help each other against their sibling. So Anezka stole Rafael's phone to meet with Petra and ask about Scott while Luisa went to see Rafael with the taped-up piece of formerly shredded paper that proved Rafael was written out of their father's will and asked him to leave as she was going to take over the hotel, all the money, everything!
Jane finished reading Michael's letter (which had details of how their meeting was destiny) and she stepped out to find the man who brought her the best gift of all who turned out to be her very first love who broke her heart once upon a time. His name's Adam (played by Tyler Posey) and he might be Jane's true happy ever after. I can't wait for more drama next season with a baby on the way for Darcy and Rogelio, life for the newly weds Ro and Xo, Alba and her bae, Rafael broke and lonely, Petra and Anezka…well I don't know what to say about these two, Luisa being in charge of the Marbella with the love of her life going to prison and Jane and a rekindled love?