Hi guys! Our dear Jimmy McGill (and recently Saul Goodman but not yet the Saul we all loved on Breaking Bad) can't seem to catch a break as financial problems are really starting to weigh on him and a community service picking up rubbish which is part of his punishment.
Jimmy McGill tried to keep his chin up and got in line for community service with a dozen of others who spent the morning picking up accumulated trash under a highway overpass. Jimmy tried to multi-task serving his punishment and also made calls to beg for a refund on his legal malpractice insurance and took calls to set up Saul Goodman's shoots with local business owners who want to be commercial stars. Unfortunately, he got credit for just 30 minutes of picking garbage even though he bagged twice as much as everyone else.
He got into the bus that took him back to where his car was parked where he had his bath in the parking lot with a couple of wipes and went to play producer for the owner and proprietor of Duke City Recliners. However, he failed on selling the full ad slot for the recliner owner so he had to clean out his bank account to pay the office bills and lied to Kim about it and his car also gave up on him. His next client canceled on site which made him shoot a commercial for free prompting his makeup girl/production assistant to offer him the money he paid her back.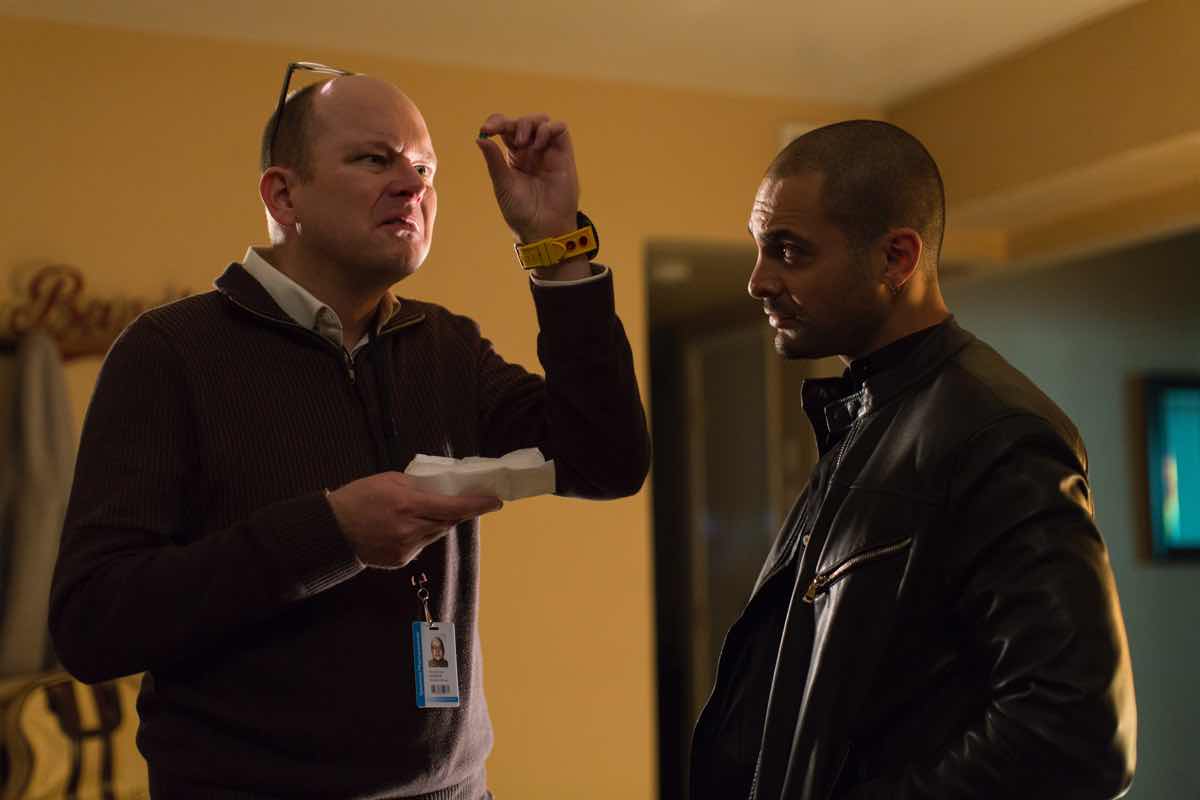 Pryce aka Squat Cobbler came home to find Nacho waiting for him with a deal of $20,000 for a supply of empty capsules that looked just like Hector Salamanca's supply of nitroglycerin. Pryce tried to hire Mike as his backup again but Mike who had just laid the cement foundation for his granddaughter's favorite playground and had an interesting conversation with a fellow support group member Anita (played by Tamara Tunie) declined. He told Pryce to cancel the deal.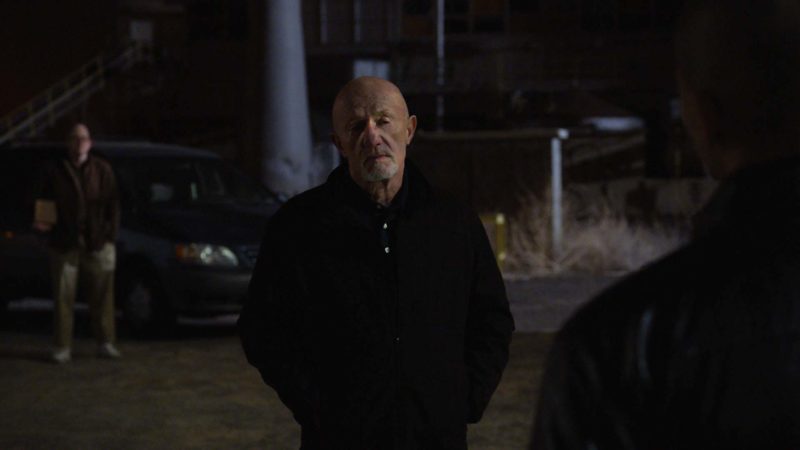 Mike might have been considering a lifestyle change but at the next support group meeting, Anita shared the story of her husband, who went hiking at a nearby state park and vanished without a trace. She was sure he was dead but wished she knew how and why which prompted Mike to call Pryce and agreed to be his backup for the deal with Nacho. At the meeting, Mike tried to talk Nacho out of what he was planning for Hector but Nacho explained that his father was his reason so Mike checked Nacho's gas cap for bugs and found none (I guess Gus Fring is not interested in Nacho and his plan to take out Hector or maybe he just doesn't care). Mike then went on to tell Nacho to un-switch the pills after the deed is done.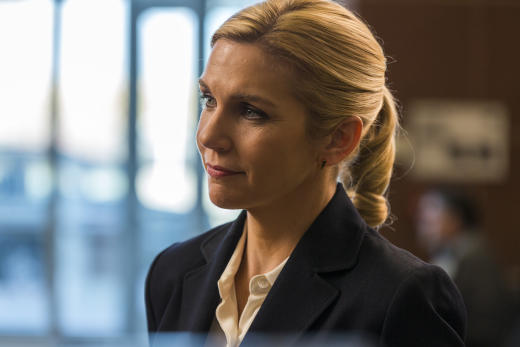 Kim felt conflicted about the outcome of Jimmy's disciplinary hearing and when her friend at Mesa Verde gloated about Chuck's breakdown on the stand after she read the transcripts just to be sure that there would be no problems. Kim got agitated and said as far as she's concerned, all they did was tear down a sick man.
Kim and Jimmy went out for drinks and joked about how they could con people at the bar just for fun but things got weird when they saw a man who loudly belittled the waiter for bringing him a poorly made martini. Jimmy said the man was an asshole and needed to go down, hard. The plan was that he was going to sell him a worthless credit card for five thousand bucks and Kim looked horrified because Jimmy seemed very bitter and angry but he shook it off.
The next morning Jimmy went to a meeting with his insurance agent to have his payment refunded and tried to be as charming as always but it didn't work out for him. Not only could he not get a refund but it was revealed that when he got his law license back, his premiums were going to increase by 150% as a result of his suspension. Jimmy started crying as the insurance agent stared with pity so he started to babble bout how hard he was trying, his gal's (Kim i assume, didn't know they were official/exclusive) disappointment in him and his brother who was struggling so terribly with mental illness that he had a breakdown in court. It turned out Chuck also had his own insurance policy with this same company so the insurance agent started scribbling and Jimmy protested and begged that she should not say anything about that but she just simply told him not to worry about it and for him to feel better. As he walked out of her office, Jimmy's face lit up like he had just achieved another greatness.
With 3 episodes left this season, here's the trailer for the next episode; Slip which returns in 2 weeks…