Hey guys! So it turns out Pearson Specter Litt might not be as well managed as we thought it was and might not survive without Jessica as Alex joined the firm which created some expected and unexpected drama causing Louis and Harvey to struggle with new firm dynamics, Rachel and Donna disagreed over the associates as Rachel's leadership was challenged by an associate and Mike gained (and lost) new business.
The opening scene explained the episode title; Mudmare with Louis having a mudding-themed nightmare as Harvey finally agreed to go mudding with him only for their bro-date to be interrupted by Alex who insisted on taking Louis' place in the mud bath. His therapist; Dr. Lipschitz told Louis to calm down and take Alex's arrival as an opportunity to make a new friend instead so Louis went on to welcome Alex to the office with a honeysuckle plant.
It turned out Alex is actually a perfect potential friend for Louis as he admired Louis' casework and he's also a cat person so they hit it off and Louis invited him to lunch to which Alex agreed. Unfortunately, Alex ended up having to cancel on Louis because Harvey called him away to do something. Louis witnessed them leaving the office together and laughing so he assumed they were laughing at him and immediately called his psychiatrist for help with the situation. Alex actually had to cancel plans with Louis because Harvey needed his help on a case that Mike couldn't take because of a time-sensitive pro bono he was working on. Later on, Alex asked Harvey if he had to worry about Louis and Harvey, after telling Alex about Louis' fear, assured him that he had nothing to worry about.
While Mike investigated the suspicious death of a grieving father's imprisoned son, he discovered his client's son died because the prison was understaffed which convinced him that they had enough for a lawsuit. I was excited that we were finally going to see some court action but unfortunately, he won't be able to work on it because Alex asked Harvey to pull Mike off of the pro bono as it conflicts with one his clients. Alex's client tried to bully them off the case, and Harvey gave in to the pressure. Harvey then went against his word and told Mike to drop the case. Alex has been there a day and he's already causing trouble for the dynamic duo so maybe Mike should have been the one worried about the new guy in town and not Louis.
Remember Rachel took over managing the associates? Well, she has been having some trouble with Stephanie (the fourth-year associate Louis verbally abused in the first episode). She turned to Donna for some advice and tried to be more authoritative with Stephanie but didn't get much of a chance be the boss because Donna witnessed another instance of insubordination and undermined Rachel by stepping in and waving her COO position around. Donna's interference left Rachel embarrassed so she confronted Donna about it later on but their argument got out of hand and they both said the other wasn't ready for her new position.
Louis heard of what Alex made Harvey do and confronted Harvey about it because he thought it was a bad idea to let Alex and his clients bully them and insisted they had to honor their agreement with Mike. Instead, Harvey embarrassingly brought up Louis' friendship fears in front of Donna and also shut down both Louis and Donna (who agreed with Louis). While the boys argued, Donna realized she messed up by speaking for Rachel and later apologized to her. Rachel also realized that managing the associates was actually the last thing she wanted to do because she wanted to enjoy being a lawyer so she handed control over to Donna whose first order of business was to fire Stephanie.
Mike passed the pro bono case off to Oliver after he was forced to give it up. At first, Oliver refused to accept it until Mike brought up how he almost died in prison. Harvey was pissed off at Mike for giving the case to Oliver because he was linked to the legal clinic so their client would still be upset about the lawsuit. Harvey then made Mike sign a document saying there was a Chinese wall between him and the clinic's lawsuit against the prison and also he made Mike promise to keep his word that he won't have anything to do with the lawsuit. (I don't see this happening though… I mean, its Mike Ross!).
Eventually, Mike and Alex finally met as Mike passive-aggressively handed Alex a list of the next 15 pro bono cases he planned on taking to make sure they never find themselves in this position again. It turned out Alex was also frustrated with all of this and told his annoying client not to put him in this spot again. They realized the other didn't have bad intentions and they ended the conversation as friendly-ish colleagues.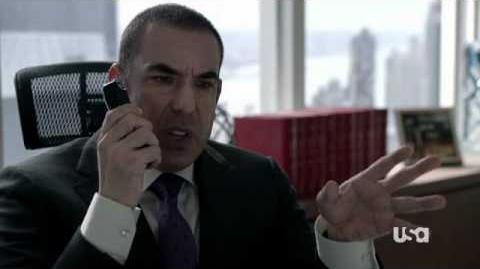 In the final scene, Dr. Lipschitz received a phone call from a very upset Louis who was ranting about how his recent falling-out with Harvey wasn't his fault and said Dr. Lipschitz clearly thought he was a terrible person but then, he called Dr. Lipschitz Harvey which made us realize that Louis may have just suffered some kind of break. Turns out this really wasn't something to laugh at for the past six seasons…poor Louis!
Mudmare was a very weird episode but here is is the trailer for the next episode; Divide and Conquer…