Hey guys! This week on Suits, Mike juggled his work obligations with his promise to help a family, Harvey asked for Louis' discretion in a sensitive matter and Donna vetted a possible addition to the firm.
The episode opened with Mike trying (and failing) to sneak out early so he can put in time on the clinic case he's not supposed to be working on. After he calmed Rachel down, he was almost caught by Nathan so he had to make up some lie about working on a Brooklyn Housing project issue. Later, Oliver asked Mike if he was sure that pursuing the prison case would be worth it but Mike assured him that it was.
Harvey found out that Paula was being sued by her ex-business partner and offered to help but of course, he couldn't help directly so he recommended Louis which Paula refused at first. Harvey persisted and went to ask Louis for his discretion which forced him to admit that he was dating his former therapist. Louis realized how important the case was to Harvey and agreed to take it on then he asked if Donna was aware of his relationship with Paula. Harvey said she didn't and he wanted to keep it that way. Later on, Louis crashed Paula's lunch and convinced her to let him represent her in the lawsuit. He also found out that the ex-business partner was also her ex-boyfriend which explains why she didn't want Harvey to know the details of the law suit.
Back at PSL, Donna walked into Louis' office after seeing Harvey in there earlier, to make sure both boys were acting appropriately. Louis admitted they were fine and that Harvey had even asked him to handle a personal matter he couldn't tell her about (Good thing he caught himself on time before revealing what the secret mission was). When Harvey got back to Pearson Specter Litt, Donna approached him to ask him why he met with Louis and also tell him that his client was waiting in his office.
Harvey crossed paths with Holly who wanted him to hire her as a consultant for PSL. She informed him that she met with Rachel but he blew her off to go and handle the stolen technology lawsuit he had to do it without Mike because Mike was still with Oliver interviewing a prison inmate. Mike realized that the key to his case might be in the fact that the prison he was investigating was one of several owned by the same company. In one of those prisons was his least favorite person; Frank Gallo. He met with Frank and asked him to be his expert witness but of course, Frank asked for an early release again. Instead, Mike offered to help his daughter so Frank told him just enough to keep him on the hook.
Louis met with Paula's ex-partner/boyfriend; Dr. Jacob Manning and his lawyer, who was convinced that she stole many of his patients. He had found out about Paula's relationship with Harvey and was willing to use it against her which blew up the settlement meeting. Louis went back to Paula to demand the full story of her and Jacob's relationship. After, we got to see Louis' therapist asking him if he might be drawing a parallel between their failure and his own relationship with Tara.
Harvey reconsidered Holly's offer because he needed her to assist on his case to find out how his client's technology was stolen, and if she succeeds, he might give her the job she's after. Donna strongly objected and instead she subjected Holly to a job interview to find out if she was Pearson Specter Litt material. She didn't want Holly to betray the firm the way she did her former employer but Holly pointed out that she only did that after she first crossed paths with Harvey. She also proved her usefulness by getting exactly what Harvey needed on his current case. Harvey found out that Holly had chosen not to work at the firm after Donna questioned her loyalty which made Donna feel bad because she had already decided that she wanted Holly at PSL.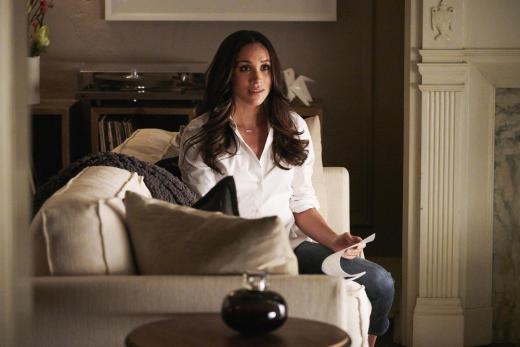 Louis accused Paula's ex of stalking her and got the case shut down. Harvey found out about Paula's ex and asked her why she didn't inform him herself. He assured her that Louis did not tell him about the case and that Jacob was an idiot for treating her as he did. Meanwhile, Mike found out that Nathan knew he hadn't been working on any Brooklyn Housing case and Nathan was clear that he did not care since this time he was not the one getting screwed by Mike. In the end, Rachel also found out the truth that Mike was not working on the housing case when she took dinner to him at the clinic and Oliver covered up (or tried to) poorly. Mike confessed that he was working on the prison case and she wondered if Harvey should fire Mike for betraying him then pointed out that doing so made his word not worth that much at all.
Below is the trailer for the next episode; Home to Roost