Hi Guys,
Leaving The Cinema After The Premiere Of The Matthew Vaughn's Kingsman "The Golden Circle", I Was Going To Write About The Experience But Then Again I Realized That Not Every One Was Privileged To See It When I Did So I Decided To Do "Four Reasons Why You Shouldn't Miss This Movie" (Which I Put Up On My Snap That It Is/Was The Best Movie Of 2017 For Me).
The Four Things I Really Loved About The Movie Was;
– The Amazing Star Studded Casts
– The Soundtrack
– The Stunts Co-ordination
– The Sense Of Style
The Cast Of This Movie Was Awesome In Their Own Way: But I Particularly Had Two Favorites; Eggsy (Played By Taron Egerton) And Elton John (Played By Elton John, Lol). Eggsy Who Exemplified The Qualities Of A True Gentleman While Delivering On His Character Was Just A Sight To Watch. There Was A Scene Where He Had A Combat With Charlie Who At That Point Had Lost His Machine Arm That Miss Poppy Made For Him And Eggsy Told Him "Why Don't I Be A Gentleman And Fight You With Just One Hand"… That Part Killed Me Fam.

The Fact That They Allowed Elton John Be Himself Completely Was Amazing, Like He Didn't Hold Back At All. At First I Thought He Was Going To Be A Boring Character Since He Particularly Wasn't A Real Actor But He Gave Me The Samuel .L. Jackson Kind Of Feel I Was Looking For Been That He Samuel .L. Jackson Wasn't IN The Sequel.
The Soundtrack: The Movie Started With An Amazing Soundtrack From Henry Jackman (Boy That Man Can Sure Make Amazing Soundtracks For The World, Like You Have To Be Deaf To Miss His Strings And Cords). Opening With A Melo- Dramatic Tune That Screamed "Listen Attentively, We Are About To Go On A Ride And You Sure Don't Want To Be Distracted". You Know For Someone Who Has Done Remarkably Well On Movies Such As X-Men, Kung Fu Panda, Pirate Of The Caribbean, Captain America, You Know You Are In For A Wow Wow Wow.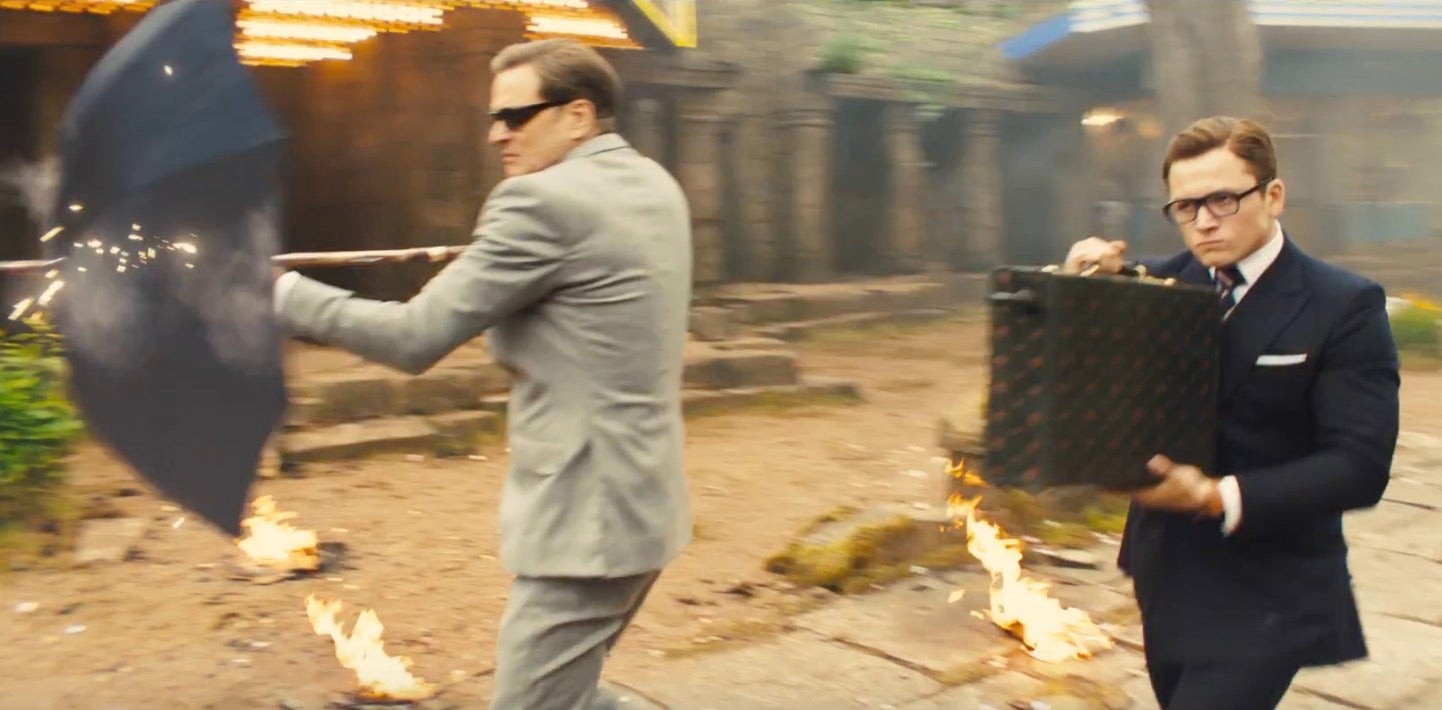 The Stunts Co-ordination: Hmmmmmmmm, How I Wish I Could Crack My Head Open So You Could Really See How Excited I Was Hours After Seeing This Movie. Fam, The Movie Started With Eggsy (Played By Taron Egerton) Getting Into A Fight With A Drop Out Ex-Kingsman Charles (Played By Edward Holcoft) And From That Point Till The End Of The Movie I Had To Distant Myself From The Babe Sitting Next To Me As I Didn't Want To Get Distracted! The Stunts In The Movie Were Well Put Together And They Made It Look So Effortless And Real Like Its Something You Can Try When Area Boys Around 3rd Mainland Bridge Try To Act Funny At Night. The Thing That Bursted My Head Was That I Had To Stay For The Credit Roll And I Realized Over 70 Stuntsmen Worked On This Movie.
The Sense Of Style: Please Don't Get Me Started On All The Bespoke Suits That Were Featured In The Movie, Like Who On Earth Did That And Full Credit To All The Cast For Being Able To Rock It. Ginger (Played By Halle Berry) Looked Dapper In The Closing Scenes Where She Was Made Agent Whiskey. I Couldn't Take My Eyes Off Eggsy, Like The Dude Rocked A Three Piece In All Fight Sequence And Still Looked Fabulous After It, The Trouser No Tear.
See, There Is No Way I Would Be Able To Explain Enough Why You Should Borrow Money And Go See This Movie At Any IMax Cinema (I'm So Not Giving Anyone Any Advert Placement Here, Lol) And Please Detach Yourself From Every Distraction As You Don't Want Someone Chatting You Up While Trying To Follow Up With Dialogue And Scenes.